Get your tickets here for this glamourous evening of decadent food, awards and auctions: SFCDMA 2015 Gala
Thursday, February 5, 2015

The Olympic Club - Lakeside
599 Skyline Blvd, San Francisco

Cocktail Recption at 6:00pm - Dinner at 7:30pm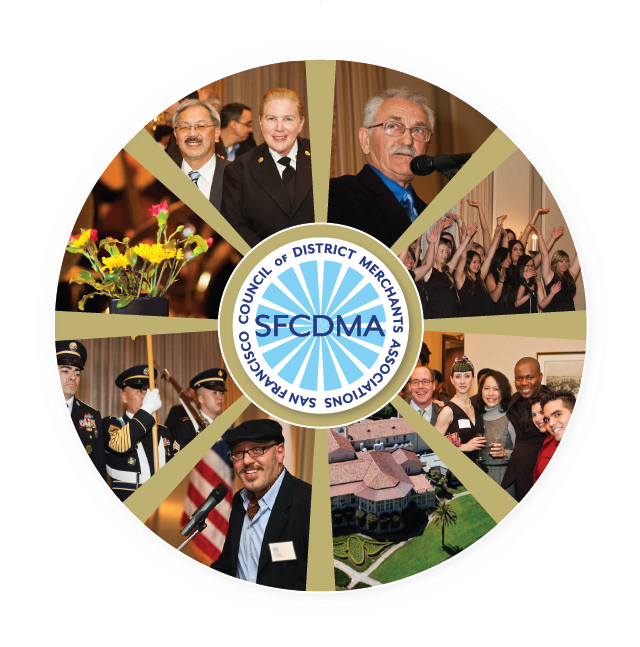 SFCDMA Gala & Celebration Awards Dinner:
2015 Outstanding Achievement Award Winners
The San Francisco Council of District Merchants hosts its 62nd Annual Gala Celebration on February 5, at the Olympic Club, Lakeside. The evening will be filled with entertainment, delicious food and beverages, great company and some surprises.

Join us as we kick off 2015 honoring San Francisco's finest
...AND THE WINNERS ARE

:

San Francisco Fire Department


Paramedic Jason Cortez, for the exemplary patient care that gave to a 3 year old boy who was in respiratory arrest. The little guy has fully recovered from his medical emergency.



San Francisco Police Department


Officer Jason Johnson who during his six-year tenure, has gone above and beyond when it comes to mentoring youth.



Merchant of the Year


Cliff's Variety owned by the same family since 1936, a neighborhood institution, which predates the neighborhood becoming the first widely, recognized gay mecca starting in the 1960s. It is one of the oldest family-run stores in the city and has been a very active and dedicated member of the Castro Merchants Association.



Advocacy business of the Year


American Express has been a strong supporter of small business with its annual Small Business Saturday campaign contributing to publicizing Shop Small with banners, doormats and bags.
Over the past sixty years, the Council has distinguished itself by drawing together the disparate merchants associations in the neighborhood commercial districts of the City. Together, they have advocated for street lighting, traffic control, parking, and legislation to improve the business climate in the City. Members represent a variety of local businesses including an eclectic mix of food and drink, salons, spas, healers, shopping, schools, business services, entertainment and more. Our Mission is to protect, preserve, and promote small businesses in San Francisco. For more information and to make reservations for the dinner, call 415.641.0623.
Get your tickets here for this glamourous evening of decadent
food
, awards and auctions:
SFCDMA 2015 Gala